The Coast Guard arrested a man trying to run a giant hamster wheel across the Atlantic. His goal was to reach London, England — more than 4,000 miles away.
+++
In this week's email:
The big idea: Apple's classical ambitions: embracing BIS Records and beyond
Piano: 24 New York pianists perform Satie's Vexations 840 times
In Memoriam: Violinist Giles Broadbent of Stringfever dies at 51
Opera House of the week
Around the web: Cat-on-the-lap shifting technique, an extension to find the cheapest place to buy a book online, a free recipe website ad filter, plus more curious internet finds.
Apple's Classical Ambitions: Embracing BIS Records and Beyond
Apple, a dominant player in the world of music streaming, has acquired the renowned 50-year-old Swedish label BIS Records. With BIS known for its mastery of early and contemporary classical pieces, it's evident that Apple is looking to expand classical music ambitions.
Apple's Classical Moves
Apple's foray into the classical sector began with the surprise acquisition of the classical music streaming platform Primephonic in 2021. Two years later, Apple Music Classical, a music streaming app boasting an initial catalogue of a staggering 5 million tracks, was launched.
The goal was to provide a custom classical music streaming platform to solve many of the failings of Apple Music's clumsy treatment of classical music, especially with search. With countless versions of the same works, differentiation has become an issue that can be solved with expert curation.
In comes BIS Records, a label conceived by Robert von Bahr in the picturesque town of Akersberga, Sweden, in 1973. It quickly developed a reputation for its meticulous selection of classical pieces, ranging from the early Renaissance to avant-garde contemporary compositions.
Audio Excellence
BIS and Apple, both connoisseurs in their fields, share a commitment to top-notch audio quality. This alignment ensures that classical enthusiasts benefit from the finest audio experiences. Robert von Bahr, in expressing his support for the merger, highlighted this shared commitment, signifying a new era of musical consumption where technology and timeless compositions meld seamlessly.
Business Case
According to recent statistics, over 80% of today's music consumption is via streaming, with 0.8% of that dedicated to classical music. It's not huge, but potentially very lucrative if Apple can capture the market share.
Blueprint for the Future
Post-acquisition, BIS Records will find a home in Apple Music Classical. Understanding the value BIS brings, Apple has ensured continuity, retaining the entire BIS team, from its dynamic founder, Robert von Bahr, to its dedicated sound engineers.
Big Picture
Apple's endeavours into the classical landscape are about more than diversifying its portfolio; it's a testament to the timeless allure of classical music and its place in the digital age. As other industry stalwarts like Deutsche Grammophon's STAGE+ and UMG's acquisition of Hyperion Records make their moves, a fascinating transformation is underway. We're witnessing the evolution of classical music's consumption – where centuries-old compositions are being delivered through cutting-edge technology, creating an amalgamation of the past, present, and future.
Franz Welser-Möst (Photo: Steven Pisano)
Cleveland Orchestra Conductor Has Cancerous Tumor Removed — Cleveland Orchestra music director Franz Welser-Möst had a cancerous tumor removed and has cancelled his conducting performances from late October through the end of the year | The Independent
Expensive Saxophone Theft Prompts CCTV Appeal in York — CCTV captures three men linked to the theft of a high-value saxophone from York's Gear4music store. Police seek the public's help in identifying the suspects. | BBC
New York City Ballet Orchestra Passes Strike Authorization — New York City Ballet orchestra musicians vote to potentially strike over contract disputes, seeking better post-pandemic wages. NYCB defends its pay strategy, challenging the union's claims. | Playbill
'Streaming opera is a disaster. We should not be encouraging it' — Director Barrie Kosky talks about why cinema broadcasts won't bring new audiences to theatres and how he lifted his Wagner curse | The Times
Met Opera Musicians Perform at the US Open Men's Final — Opera baritone Will Liverman and the Metropolitan Opera Orchestra performed at the 2023 US Open. They played "America the Beautiful/Lift Every Voice and Sing" alongside director Yannick Nézet-Séguin. | Violin Channel
Lyric Opera of Chicago to Use New Accessible Technology in its 2023-24 Season — The Lyric Opera of Chicago is introducing SoundShirt, a wearable technology by CuteCircuit, enhancing live opera experiences for wearers through touch. The innovation, in collaboration with Chicago's MOPD, offers a multisensory experience starting with Wagner's "The Flying Dutchman" on October 1. | Opera Wire
Bow Stolen from Miami Airport — A valuable Pernambuco bow, crafted by Markus Laine, was stolen from Miami Airport. It's distinguishable by its gold-mounted features and an "M. Laine" stamp. | Violin Channel
24 New York Pianists Perform Satie's Vexations 840 Times
Pianists gathered at New York University for the 60th anniversary of the first performance of Erik Satie's Vexations, performing the piece 35 times each.
The Work
Erik Satie's Vexations (1893) was first performed on September 9th, 1963, 70 years after its composition. The first performance took 18 hours, and performers tag-teaming the work included the composer John Cage, The Velvet Underground's John Cale, David Tudor, Christian Wolff and David Del Tredici. John Cage had spearheaded the performance of his self-described musical forefather's work, insisting its premiere was "not only possible but essential."
The Inspiration
Different theories attempt to explain the creation of Vexations. Some posit that the 27-year-old Satie was mocking the piano exercises he was forced to do at the Conservatoire de Paris. Others explain it as his response to the end of his only romantic relationship - a six-month tryst with the painter Suzanne Valadon.
The Remount
Marilyn Nonken, the chair of NYU's Department of Music, led a team of mostly student players playing 35 repetitions of Vexations each, totalling 840 times. Their performance began at 6 am and was expected to end at 9 pm.
Satie's score annotation explains above the piece, "It would be advisable to prepare oneself beforehand, in the deepest silence, by serious immobilities."
Give it a try yourself: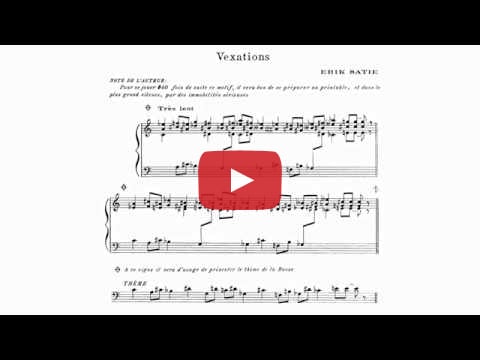 Violinist Giles Broadbent (Photo via Stringfever)
Violinist Giles Broadbent of Stringfever Dies at 51
Violinist Giles Broadbent, a member of the electric string quartet Stringfever, also known for his performances in London's West End, has died after a short illness.
The Group
Stringfever was founded in 2003 by Giles Broadbent along with his brother Ralph, Neal and cousin Graham. They play a mixture of soundtracks, classical music, and rock music and have toured the US over twenty times as well as Mumbai and Beijing. The London group prides itself on combining music with comedy, including electric strings and beatbox. They are best known for their rendition of Ravel's Bolero played on one cello.
Giles
Giles, the older brother, is described as the group's boss on its website. He played a five-string Violectra Violin. His first teacher was his father, and he and his brothers often busked on London streets as children. He went on to study at the Royal Academy of Music, where he was recently granted the title of associate of the London School for his contributions to the music profession.
He was married to the television presenter Diane Louise Jordan and is survived by his wife, daughter and grandchildren.

Check out the group's legendary rendition of Bolero here:
QUIZ
What famous composer has two skulls in his tomb?

A: Edward Elgar
B: Antonio Vivaldi
C: George Frideric Handel
D: Joseph Haydn

Scroll down for the answer…
AROUND THE WEB
📅 On this day: Arvo Pärt is born September 11, 1935, in Paide, Estonia.
🍽️ Useful: A free recipe website that removes the annoying pop-up ads and videos? Yes!
🎶 Music: Just what the world needed. Now you can fake playing the piano with your computer keyboard.
💵 Save a buck: This extension finds the cheapest place to buy a book online.
🐶 Useless: We don't know why this exists, but here is a pug in a rug.

🐈‍⬛ Aww: The "I'll be right back" cat-on-the-lap shifting technique.
The Teatro alla Scala (La Scala)
Founded: 1778
Capacity: 2030
The Teatro alla Scala, commonly known as La Scala, may not claim the title of the world's largest opera house, but it certainly stands as the most esteemed. Crafted by Italian architect Giuseppe Piermarini, its exterior may seem simple, but its interiors exude pure sophistication.
Over the years, La Scala has undergone multiple renovations, most significantly after enduring bomb damage in WW2. Today, it proudly houses the La Scala Theater Chorus, Ballet, and Orchestra.
QUIZ ANSWER
C: Joseph Haydn — In 1809, after Joseph Haydn was laid to rest, his head was snatched by individuals studying phrenology, leaving a stand-in skull in his grave. Fast forward to 1954, Haydn's authentic skull was returned, yet the replacement remained. So now, Haydn's tomb intriguingly holds two skulls.
How did you like today's email?